Michigan's Best Recreational Cannabis Store is Now Open for Curbside Shopping
Hold onto your rolling papers and get ready for the buzz! The much-anticipated TFS Menominee has made its debut with its most impressive curbside shopping experience yet.
The Fire Station Menominee is conveniently located in the south central Upper Peninsula. While a new retail storefront is under construction, customers will experience the same exceptional quality, extensive variety, and expert guidance that they would experience when shopping in a store, all from the comfort of their vehicles.
*According to Michigan Green State, 2022
The Fire Station Cannabis Club
Spark Good Times With Every Purchase
The Fire Station Cannabis Club is our customer loyalty program. Customers will earn points with every purchase, score access to VIP discounts and promotions, and enjoy a variety of free perks.
And just for joining, we'll start you off with a blazing 150 points – that's a warm welcome, right? 
HOW TO NAVIGATE CURBSIDE PICK UP AT TFS MENOMINEE​
Curbside cannabis pick-up provides a convenient and contactless way for customers to purchase cannabis products from The Fire Station. Here's what you need to know about utilizing our Menominee curbside shopping experience:
Order ahead:

Place your order online at thefirestation.com/menominee-menu to expedite your curbside shopping experience. If you aren't able to place your order before arriving, there will be designated parking spaces at the shop where you can do so. 

Get your payment ready:

All Fire Station locations are cash only at this time. Come prepared to TFS Menominee with your cash in hand, or swing into one of the ATMs conveniently located at the store. 

Have your ID ready:

In order to pick up your order, be sure to have a valid government-issued photo ID on hand. 

Follow all posted signage:

When you enter TFS Menominee's curbside lot, pay attention to signage so you end up in the right pick up lane. If you have any questions, just ask one of our friendly budtenders or lot attendants for assistance!
The U.P.'s Cannabis Superstore
TFS is working tirelessly to create an in-store shopping experience unlike anything else in the Upper Peninsula. The shop is under construction, but trust us, it'll be worth the wait.
You've got questions, we've got answers
Frequently Asked Questions
How much cannabis can I purchase each day? What's the difference between hybrid, indica and sativa strains? We understand you have questions, and we're happy to offer you answers! Browse our FAQs by topic below.
Our customer service philosophy is all about lighting up your day with friendly, knowledgeable support. Whether you're new to cannabis or a canna-sseur, at TFS, you'll be treated like a part of the Fire Fam from day one.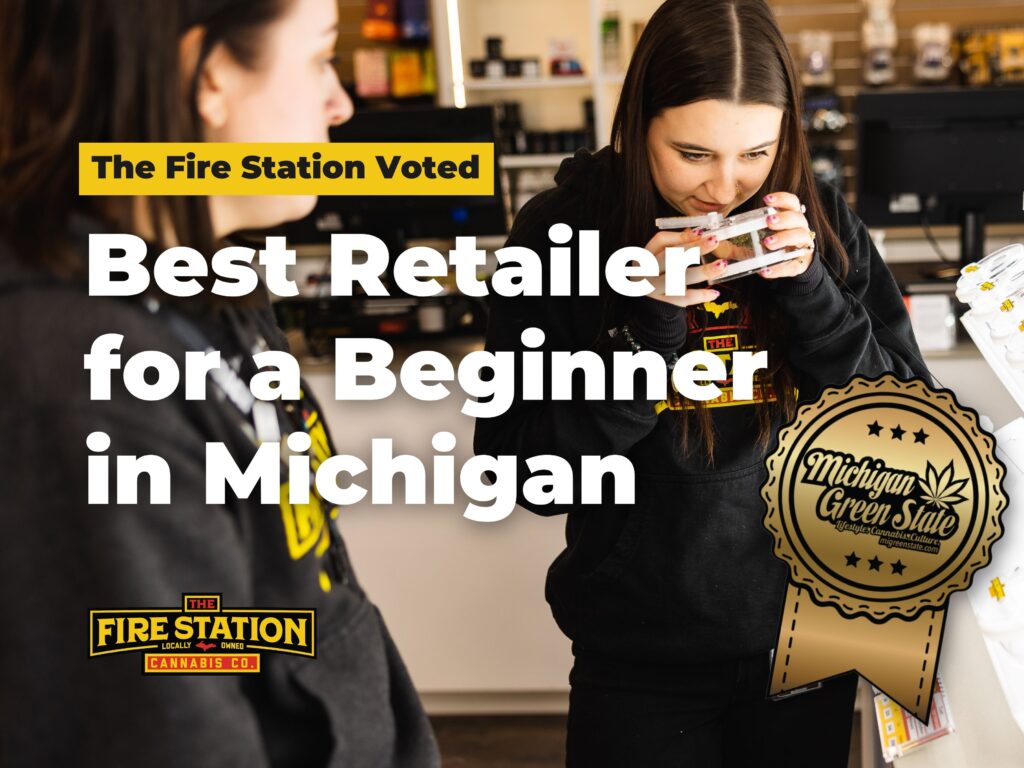 First timer? Welcome in! The Fire Station Cannabis Company was voted by fans 'Best Cannabis Retailer for a Beginner' in the 2022-23 Michigan Green State
Read More »
"Have you heard of CBD?" This is a question that I find myself asking customers more and more when talking about cannabis in our budroom. My
Read More »
The Fire Station offers free curbside pick up for customers wanting the shopping convenience but still the access to our entire selection of products. In
Read More »
The Fire Station has nine retail locations across Michigan's Upper Peninsula, with two more coming soon. Find the location nearest you.