With a little green in your pocket and a sense of adventure in your heart, we invite you to unleash your inner explorer and take the high road across Michigan's Upper Peninsula with The Fire Station.
From mid-September through the beginning of October, the vibrant hues of autumn paint an awe-inspiring landscape across the Upper Peninsula. It's the perfect season to explore the enchanting wonders of the U.P., and of course, to visit the region's favorite cannabis retailer: The Fire Station Cannabis Company.
In this article: 
What is taking the high road?
Places to see
Cannabis-friendly accomodations
Local culture and cuisine
Fall-themed cannabis products
Visit The Fire Station
What is taking the high road?
When you take the high road, you become an explorer of the mind and the world around you. Cannabis can spark curiosity, heighten your senses, and open doors to new experiences. It's an invitation to embrace your inner explorer, venture into uncharted territories, and enjoy the journey.
Hit the road on the Upper Peninsula's scenic byways, like the Keweenaw Peninsula or iconic Soo Locks, and witness nature's brushstroke of fiery reds, vibrant oranges, and golden yellows. The picturesque landscapes, framed by majestic forests and the most stunning Lake Superior coastlines, create the perfect backdrop for adventure.
Cannabis-friendly accomodations
Choose from cannabis-friendly accommodations that cater to your needs. Some hotels and short-term rentals across the Upper Peninsula embrace cannabis-friendly policies, allowing you to relax and enjoy your cannabis products in designated areas. Unwind in comfort with some of your favorite TFS products after a day of exploring nature's colorful spectacle.
Local culture and cuisine
Immerse yourself in the local culture and cuisine of the Upper Peninsula during your cannabis fall color tour. Visit charming towns and explore their unique offerings, from craft breweries and farm-to-table restaurants to art galleries and live music venues. Engage with the locals, share stories, and embrace the friendly atmosphere that characterizes the region.
Fall-themed cannabis products
Indulge in fall-themed cannabis products that add an extra layer of enjoyment to your journey. Savor pumpkin spice-flavored edibles or sip on infused specialty beverages as you take in the breathtaking views. These seasonal delights combine the essence of autumn with the pleasures of cannabis, creating a truly immersive experience.
One of the highlights of a U.P. fall color tour is stopping at your favorite TFS locations along the way. Explore a wide selection of cannabis products, including different strains, edibles, concentrates, and more. TFS has knowledgeable staff who can assist you in choosing the right products based on your preferences and desired effects. No matter where the adventure takes you, you'll know where to find a friendly face.
Remember, while taking the high road can be a fun and enjoyable experience, it's essential to consume cannabis responsibly, know your limits, and comply with local laws and regulations.
Disclaimer: It is illegal to drive a motor vehicle while under the influence of marijuana. Legal marijuana sold by TFS is for use by individuals 21 years of age or older or registered qualifying patients only. Always read marijuana product packaging for allergen ingredients, follow dosing instructions and consume at your own risk.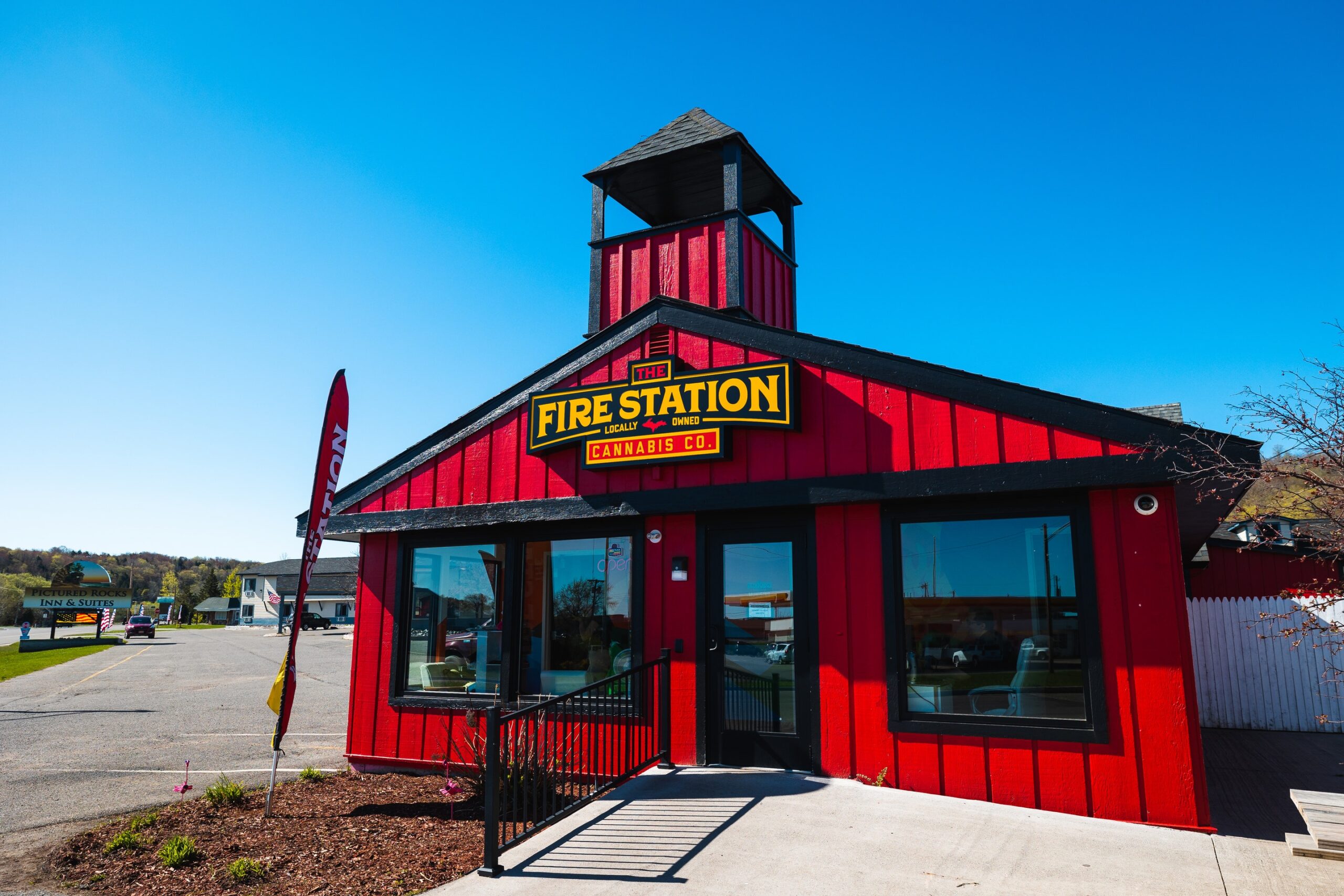 404 M-28, Munising, Michigan 49862
Situated in the heart of iconic Munising, Michigan, The Fire Station-Munising is your one-stop-shop for all of your cannabis needs. Swing in to pick up some of your favorite products, then head out and explore all the beautiful city has to offer. From kayaking to hiking, and boating to snowmobiling, there is no end to the adventure you'll find waiting for you in Munising.
Take the High Road with The Fire Station's Fall 2023 Catalog
Fall into fall with The Fire Station's 2023 catalog. Explore a guide to Michigan's beautiful Upper Peninsula in the crisp fall season, meet our newest location in Menominee, check out new and noteworthy products, find a fall-inspired cannabis recipe, and much more.
Featured articles:
Take the High Road
Meet Menominee
Uplift'N Spotlight
Meet the Fire Fam: Jacob Thompson
New & Noteworthy Products
T.H.C. Spotlight
Cooking with Cannabis: Infused Pumpkin Bread
Quiz: Which TFS Location to Try Next
Shop our nine U.P. locations
You might also be interested in...
On September 7, 2023, The Fire Station was invited to speak on a Social Equity All Star Qualifiers Panel through the Michigan Cannabis Regulatory Agency.
Read More »
Stay up-to-date with The Fire Station
Sign up for official communications from TFS and get updates on our promotions, events and other content tailored to you.