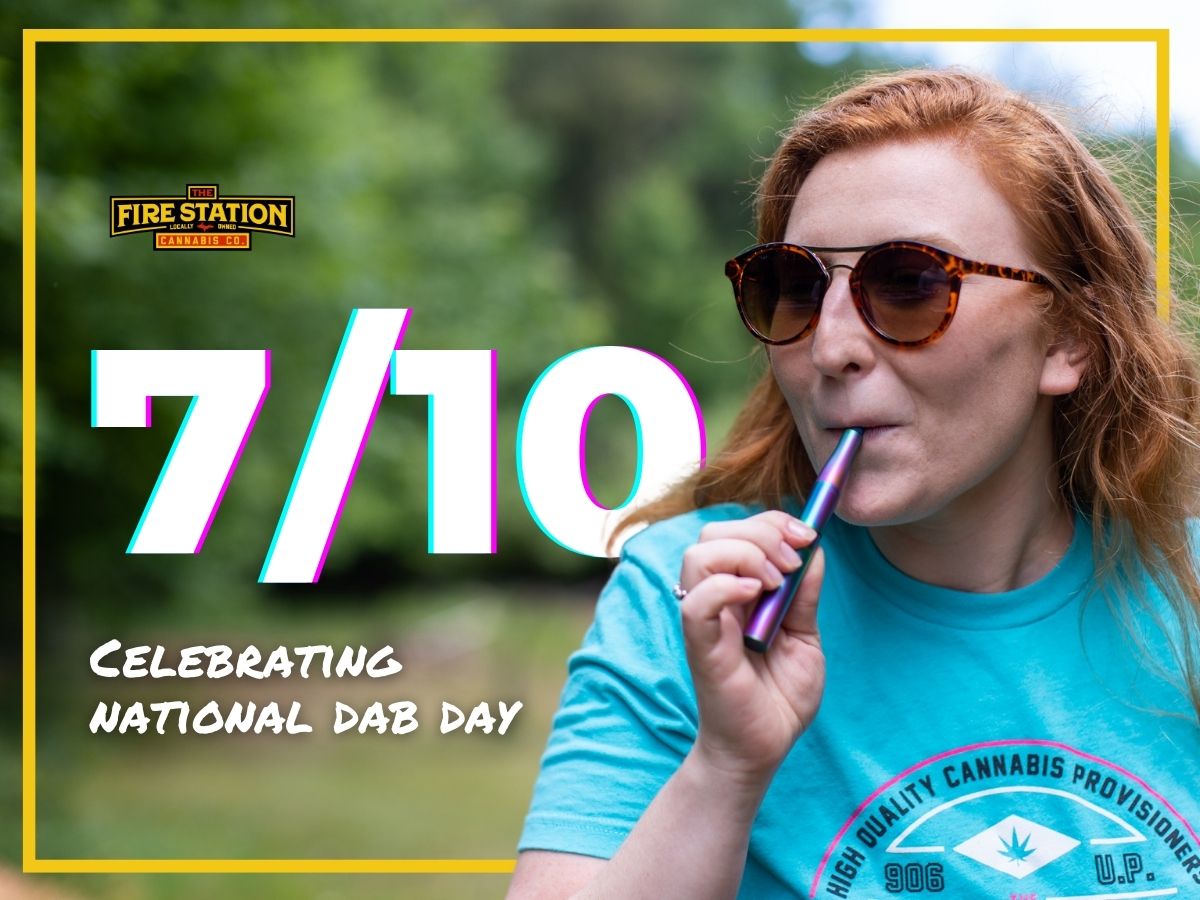 It's National Dab Day!
Alright Fire Fam, we celebrated 4/20, now it's 7/10 and the celebration continues in the cannabis community. But what exactly are we celebrating? 710, or 7/10, or July 10, is a cannabis "holiday" that celebrates cannabis oils, dabs and concentrates. Some refer to the holiday as "Dab Day," and when you turn "710" upside down, it spells "OIL."
While the origin story is still up for debate, 710 gained traction when a group of individuals sought to push concentrates and their consumption into the mainstream. The term grew in popularity when LA Weekly ran a brief article title "710 is the new 420" in July 2013. Since the early 2010s, the use of 710 has gained momentum both in media and among cannabis consumers. As cannabis legalization spreads, dabbing is becoming a more accepted and widespread way to consume and enjoy cannabis. (via Weedmaps.com)
How to celebrate 7/10 with The Fire Station
Browse our wide selection of concentrates, including live resin, shatter, wax, budder, crumble, sugar, sauce, diamonds and badder.
We also have vaporizers (cartridges, pods and disposables) if that's more your thing!
TRUE NORTH CONCENTRATES - Jelly Gushers Cured Badder - Recreational
Gushers is a high-THC, low-CBD cultivar, and has strong, euphoric effects that can initially feel enervating, then sedating. Named for its explosively thick fruit flavor, it's available as flower or extract.
FRESH COAST EXTRACTS MAC Cured Resin Batter - Recreational
MAC, also known as "Miracle Alien Cookies" or simply "Miracle Cookies," is a hybrid marijuana strain made by crossing Alien Cookies with Starfighter and Columbian. MAC produces creative effects that are happy and uplifting. This strain features a smooth orange flavor that is balanced out by floral accents on a sweet, earthy finish.
KIND SMOKES - Peaches N Cream Cured Resin 510 Cart - Recreational
The Peaches and Cream hybrid is a Skunk phenotype with a flavor that lives up to its name. Though floral and citrusy in aroma, Peaches and Cream has a sweet fruity taste underscored by a subtle spiciness.
CHURCH CANNABIS - Banana Split Disposable Vape Pen - Recreational
Banana Split is a sativa-dominant cross of their famous Tangie and Banana Sherbert. Banana Split offers a clean level-headed high suitable for anyone looking to have a productive day.
STIIIZY - Blue Burst Stiizy Pod - Recreational
STIIIZY is revolutionizing the cannabis industry by creating a product that offers a discreet experience built for portability and convenience. Our premium quality concentrates uphold a high level of potency and purity.
STIIIZY - Battery Kit
Comes with official original STIIIZY battery, USB charging cable, 210mAh rechargeable battery, USB charging port. Pods sold separately.
BLINK TORCH 5" Rasta Torch Gun (Assorted Designs)
Light it up OG style with a 5" torch gun. Assorted designs available.
EYCE - Eyce Rig II
Upgraded from its predecessor, the Rig II boasts epic design upgrades once again making it the best silicone rig on the market.
Note that all links direct you to the Negaunee menu. Availability of items listed are subject to change.
Shop in-store on 7/10 for your chance to win! 
Scratch off cards will be given to the first 70 customers who shop in-store on 7/10/2022 and have a pre-tax purchase of $20 or more.
ANOTHER chance to win on 7/10!
Congratulation to our 710 Instagram contest winner, Trent Boylan!
You might also be interested in…
Read more about Solventless Cannabis Concentrates
Whether you're a cannabis concentrate lover, or brand new to them, this article will explain the difference between solvent-based and solventless cannabis concentrates. By the end of this article, you may be ready to head to your favorite TFS budroom to explore our selection, or feel more equipped to strike up a conversation with one of our budtenders on the topic.
How Our U.P. Wide Delivery Works
How To Use The EVOD 510 Battery