In this article, Allison and Drew, known as the 906 Canna Couple, review five Valentine's Day themed products from The Fire Station, as well as share more about them as a couple.
"With Michigan's cannabis market in full bloom and an endless array of options at retail locations, it can be hard to narrow down what your best choices are for the perfect cannabis-infused Valentine's Day.
Cannabis can be tricky when it comes to date nights – too much of the wrong strain could mean shutting down your evening early, or on the opposite end of the spectrum, some strains could cause too much anxiety for a night on the town to be even remotely enjoyable.
Worried about finding yourself in that situation? Rest easy. We utilized our 906 Canna Couple relationship with Upper Peninsula's own local cannabis chain, The Fire Station, to curate the perfect list of products that can enhance the night with your stoned sweetheart.
Whether you're searching for edibles or flower, we've dug deep into the cultivars set to amplify your libido and drive you to engage in deep connection with your partner this Valentine's Day."
Read more from Allison and Drew below.  
Flowers: A Valentine's Day Staple
"What is Valentine's day without a fragrant bouquet of flowers? Well, thanks to Michigan's recreational legalization, now you can get your significant other the flowers they REALLY want when February 14 rolls around. Pun intended.
Cannabis flower, the most common of all consumption methods, can be found in a wide variety across store shelves. So what direction should you take? As we poured over the options on The Fire Station menu, one strain in specific popped out; Pink Rozay by KCD Candela*. While we enjoy libations of the alcoholic variety on occasion, we also can't deny that with growing older comes significantly more unpleasant day-after side effects. This strain seemed like a fun trade-off. We still got wine (sort of), and we didn't have to waste an entire day lost in a hungover fog.
A cross of Lemonchello and Lemon Pound Cake, Pink Rozay is categorized as an Indica Hybrid, paired with the stereotypical fruity aroma you often find with strains high in a combination of both Limonene and b-Myrcene. A quick peek on Leafly alerted us that most consumers also found this strain to have arousing side-effects and create a euphoric and cerebral high. We recommend keeping this bud by the bedside; the perfect way to wrap up with your loved one as you wrap up one hell of a Valentine's Day."
*This product is in limited quantities. Looking for another great Valentine's Day strain? The 906 Canna Couple recommends trying Slapz, locally grown by Frosty Trees! The originating genetics of this strain include Zkittles, Gelato and Girl Scout Cookies – 3 strains known for their libido boosting properties! Flavor profile includes skunk, diesel and pine.
So what did we think? "First of all, that color profile, WOW! With deep shades of frosty orange and forest green buds, this strain will take your breath away before you even inhale. Limonene is prevalent in smell as you break open the buds on your rolling tray, but when you take your first hit, you'll find that b-Myrcene steals the show with a sweet, pungent, gassy taste. Even with the noted indica lean, this product sincerely feels like a hybrid with noticeable creative stimulation." 
"Both of us are incredibly creative, social at heart and have history in the entertainment industry. It was only 7 months into our relationship that we realized we wanted to start creating cannabis content to help break the stigma against cannabis use and highlight just how okay it was to openly use cannabis and be an active member of your community. We think Drew was the first one to bring up the idea, with Ally creating the first Instagram post on January 23, 2022. The Facebook group followed around the Fall. In between those two occurrences, we were able to get connected with our friends at The Fire Station and create some pretty "fire" content for the community over the past year."
Edibles: Cover It In Chocolate
"You can't go wrong with candy on Valentine's Day – especially chocolate. Eating chocolate allows the brain to release endorphins, serotonin, dopamine and oxytocin – chemicals used by neurons to communicate with each other and act as neurotransmitters associated directly with feelings of pleasure and motivation. In other words – it makes you feel reeeeeally good, and adding THC into the equation seemed like the perfect match.
When it comes to variety and consistency in flavor on the Michigan market – Midnight Bars sure seem to have checked all the boxes. We quickly decided on Dark Chocolate Cherry, clearly the sexiest of all the flavors, to sweeten our evening. As mentioned before, it's easy to overdo it when it comes to cannabis, especially if you're not as.. well.. consistent of smokers as we are. But even seasoned vets should keep an eye on their intake, especially with edibles, when realizing a little shut eye could really damage the outcome of your planned date night.
Midnight Roots has created an easy to dose product, complete with perforated 10mg servings that easily snap away from the 100mg candy bar. The big highlight of this product for us was the great big dehydrated cherries perfectly placed on side of the candy bar opposite to the perforated edges. Biting into the cherry chunks in the chocolate bar was a flavor explosion – comparable to your favorite non-infused gourmet chocolate covered cherries.
In our experience, most baked good edibles have a tendency to lean indica in their characteristics, so if you're looking to start your evening with an edible, consider pairing it with a cup of coffee." 
So what did we think? "The combination of dark chocolate and dehydrated cherries almost entirely masks the cannabis taste in this product – and we're okay with it! It truly is a sexy snack, and really set the mood for a relaxed, sensual evening. The cherry flavor infusion tastes botanical, and less like a cherry syrup, making this edible extra delectable. Onset time for us was roughly 30 minutes, first recognized as a slight pressure behind the eyes that slowly rolls across your entire body. Ideal for intimacy as it causes a heightened sense of touch." 
"Back in 2020, right as the Covid-19 pandemic really started to take off, we were both coincidentally recruited to build out the very first recreational and medical dispensary in Iron Mountain. After maintaining a solid friendship for over a year, and realizing that we shared a lot of the same interests, we decided to start dating in June of 2021. We've been inseparable ever since – even now working together at a different cannabis establishment, and carpooling to work together almost every day. We truly never get sick of each other." 
Vape Carts: Let's Get Sauce-y!
"Vape cartridges are here to aid with discretion and ease of use. We are loud and proud cannabis consumers, and are all too used to people complimenting our "perfume" in public, but not everyone is as lucky as we are to be working in Michigan's legal cannabis industry.
When it's time to prepare for a night on the town, consider taking a Zkittles cart from Sauce Essentials. A cross of Grape Ape and Grapefruit, Zkittles Sauce Bar Disposable tastes like a fruit cocktail stuffed inside a cartridge – no joke. Although distillate carts aren't typically our go-to pick, we thought this unique live resin terp infused distillate product was worth a try. We also wanted to see if the famed Zkittles strain was as much of an aphrodisiac as the internet claimed it to be (thanks Google). The device itself is super sleek, and easy to disclose.
You'll never forget whether your vape is an indica/sativa/hybrid, as the classification is printed directly onto the disposable along with the strain name (Zkittles is an indica) – a very nice touch. The package was even easy to open – an even NICER touch! Sometimes we feel cannabis packaging is 906 Canna Couple resistant on top of being child resistant (#help). This cartridge is surprisingly smooth, with a sweet, bowl of fruit taste (do your best to exhale through your mouth only – it gets a little spicy through the nose). While we generally gravitate towards fresh frozen rosin or single sourced live resin, we couldn't deny the accessibility of this product. No bigger than the palm of our hands, the Zkittles Disposable Cart is the perfect tool for V-Day."
So what did we think? "I know you're all DYING to know – did this Zkittles product actually create feelings of arousal? Well, not in the Austin Powers "are you feeling Randy, baby?" sort of way. It did however relax us enough to forget about our earlier work day and family schedules enough to intentionally clear time for intimacy after consuming. It can be tough, with work and life in general, to find the mindset necessary for romance. This strain specifically, with its juicy collection of fruit flavors, paints a picture of tropical paradise for your tastebuds. You do feel the high throughout your entire body, as is typical with Indica strains, but this product creates more of a vibration or buzz rather than a heavy weighted feeling in your arms and legs, making it fun and possible to enjoy out of the house romantic adventures."
"As a little girl that spent HOURS on her laptop in High School consistently uploading photos, and creating self-promotional content, I'd say my entire current situation as an adult would make my younger self proud. I've worked in different forms of media since 2014, and I definitely always knew this was somewhere I would land back when I was a teenager. It's a neat feeling – almost like you've fulfilled your destiny." – Ally 
"Being the type of child that saved my lunch money and allowances to be able to buy the newest High Times Magazines when they were released, being where I'm at now in the industry is definitely an accomplishment I'm proud of as an adult. Living the dream I've always talked about since childhood and being able to provide for my family in the process." – Drew
Accessories: Good Morning, Valentine
"Start your Valentine's Day than with a classic, good ole' fashioned Wake and Bake – the perfect time to break out The Fire Station Roast and Toast Mug and in-house Contrast Coffee collaboration: Wake And Bake blend! Locally collaborated with Contrast Coffee, The Fire Station knows that a wake and bake is the perfect way to start your day, and so is supporting local Upper Peninsula businesses.
The Fire Station mug was an accessory we've had our eyes on since TFS opened back in 2019. There's something about the novelty of smoking out of a cup – the whole experience is genuinely fun. Sort of like drinking out of those crazy twisty, loopy, bendy straws as a kid. The coffee is a smooth, balanced, full-bodied and packaged in Iron Mountain, Michigan.
Pair these with the KCD Candela Pink Rozay strain, and you've got yourself the perfect morning trio to share with your partner." 
So what did we think?: "Coffee is an any time of the day sort of thing for us, so the mug was a BIG hit in our house. Just wake up? Roast and toast. Mid day drag? Roast and toast? End of the day boost? Roast and toast. It easily became as much of a staple as our coffee pot itself. Sharing with your lover is even more fun because of how funny its use can be. Initially, trying to figure out your hand placement on the pipe/mug can be a little awkward, but once you get it down, you'll never want to set it down. We've had the opportunity to enjoy Contrast Coffee in the past so we were very excited to see what their collaboration with TFS would look like. The packaging is so fun and the flavor is bold. It's easy to find the perfect caffeine/THC balance with this neat little mug."
"We've been customers of The Fire Station ever since they opened their first location in Negaunee in 2019. Now that they've expanded to 8 different dispensaries across the Upper Peninsula, it's really nice to know that regardless of what city to stop in, you're going to find the same consistent products across all locations. They always seem to host excellent Vendor Days as well featuring brands from across the state – a great opportunity to educate yourself on the brands you see on the shelves. We strongly encourage you to get to know the cultivators you support!" 
"As your Valentine's Day winds down, and you and your partner head to the bedroom, it's time to puff on that last bowl before bed and break out all your best final shenanigans to perfectly complete your evening. We would recommend reaching for the Chill Medicated 500mg THC / 500mg CBD Relax Rub. This product doesn't actually get you high (because it's a non-transdermal), but it does aid in relaxation and relief from muscle tension, cramping, even headaches and nerve damage!
Created with a shea butter, beeswax, coconut oil and mango butter base, Chill Medicated's Relax Rub goes hand in hand with sensual massage. The light vibrations caused by this topical's application is noticeable enough to incorporate into sensual fun (external use only) and ease the pain from your busy day of romance and adventure. Lets face it, most of us are not spring chickens anymore, so being able to find a cannabis product that fills your newly developed needs when muscle aches and pains start to become more than just every once in a while thing, is ideal for the daily cannabis user.
What if the hustle and bustle of the day exhaust you or your partner's body to the point of wanting to shut things down early? If you have Chill Medicated by your side, offering a foot massage with your 1:1 topical just might turn things around." 
So what did we think?: "Chill Medicated's Relax Rub was a fun and surprising twist to the end of our night. As expected, after a long day of Valentine's Day activities, our bodies were TIRED, but we both perked right up at the thought of utilizing the product during a quick at-home couples massage. Almost immediately after applying the product to our hands to start, we noticed a fun vibration spreading across our palms and down our fingers. When massaged into skin, the friction from the application creates a warming sensation that leaves the body feeling tingly and euphoric. After the body rub completely took effect, almost immediately after use, you can feel the tightness in your muscles start to give way, clearing space for intimate time that can be both exciting and comfortable."
"Our first ever recorded Canna Couple date night took place at Jerzi's 41 in Ishpeming. We ate blackened steak bites, white cheddar lobster mac and prime rib after picking up some locally grown cannabis at The Fire Station's Marquette location. We love traveling and finding unique restaurants and activities to experience and have had quite a few epic 906 Canna Couple date nights since our first. We're constantly on the look out for our next big adventure." 
The Fire Station has 8 great locations across the Upper Peninsula to help make your Valentine's Day a big hit. Don't chance it this year – prep for your V-Day with The Fire Station.
Want more Michigan-based cannabis content?
Follow the 906 Canna Couple on social media
You might also be interested in...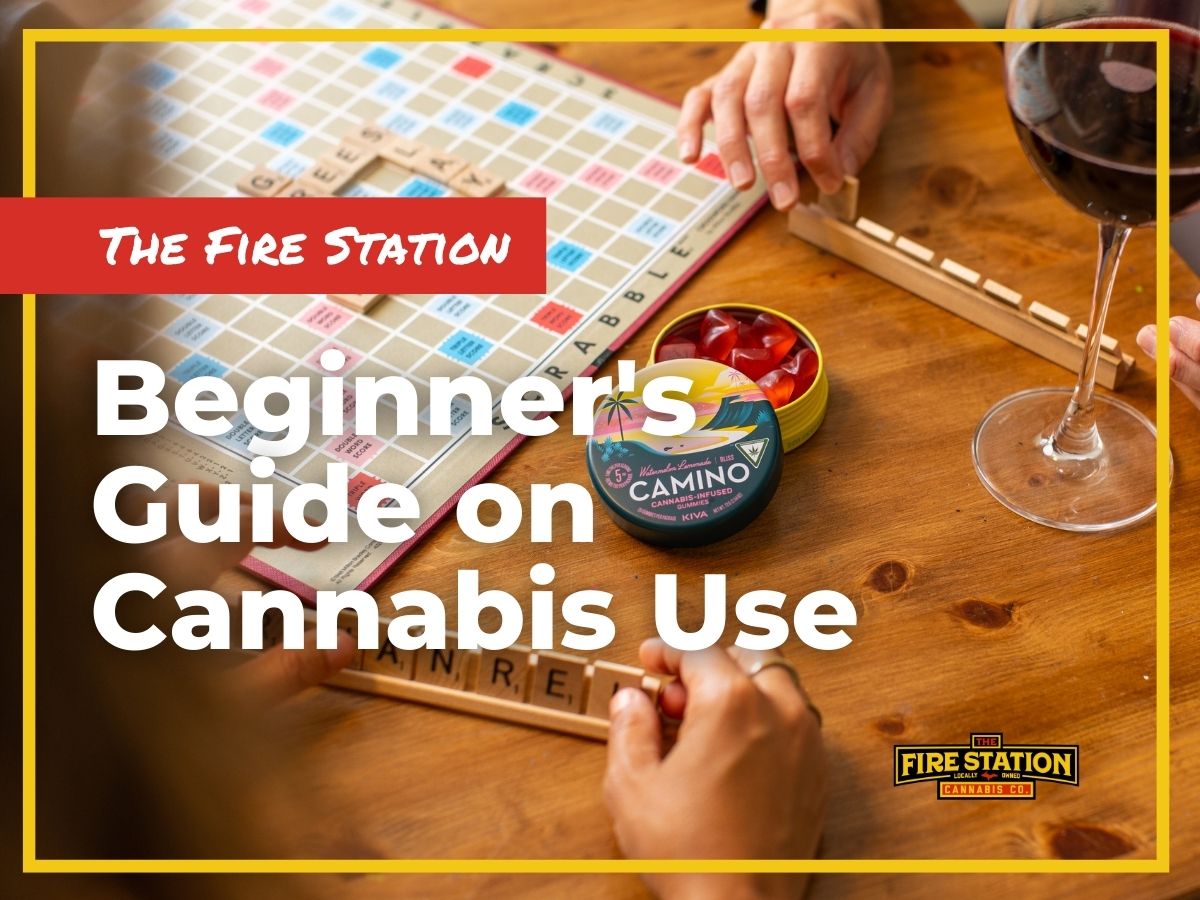 Blog
Weed, pot, grass, marijuana, mary jane, ganja, flower – there are many ways to refer to cannabis and, surprisingly, many ways to consume cannabis too.
Read More »
Blog
Mint chocolate pot brownies? Yes, please! We tested out a TFS approved recipe for brownies using the Mint Chocolate Distillate Dart. Follow along with our
Read More »
Stay up-to-date with The Fire Station
Sign up for official communications from TFS and get updates on our promotions, events and other content tailored to you.