"About 10 years ago, I was paralyzed by neuromyelitis optica (NMO). NMO is an autoimmune disease of the central nervous system. My spinal cord is damaged creating many debilitating symptoms.
I spent two months in the hospital and the last 10 years in rehab. I use aqua therapy to maintain what muscle mass I have. The temperature of the pool is around 94 degrees to help with relaxation of my muscles. The pool is my happy place, I feel amazing in the water.
After years of opioid use at such a young age, I decided to find something less abrasive on my body, which is when I found cannabis. I use a variety of cannabis products to help manage my pain on a daily basis. I mostly use edibles – indica at night, a THC + CBD during the day, and a CBD lotion.
The quality of my life has drastically changed since my diagnosis. Most days I am able to get out of bed, get to my appointments and run errands. I still have bad days but they don't outweigh my good days anymore. My energy levels are up, muscle spasms are limited, my bone pain is down, overall, I feel great and I owe a big part of that to cannabis!"
Disclaimer: Actual consumer expressing their personal views and experiences. TFS store credit paid for endorsement. Results not typical. The information in this post is not a substitute for professional medical advice, diagnosis or treatment. Always seek the advice of your physician or other qualified health care provider with any questions you may have regarding a medical condition or treatment and before undertaking a new health care regimen. Never disregard professional medical advice or delay in seeking it because of something you have read on this website.
Has The Fire Station or cannabis made a positive impact on your life?
You might also be interested in...
Blog
Meet Yolanda. "After years of chronic pain, too many referrals to count, and dozens of imaging appointments, I was diagnosed with fibromyalgia at 34.  My
Read More »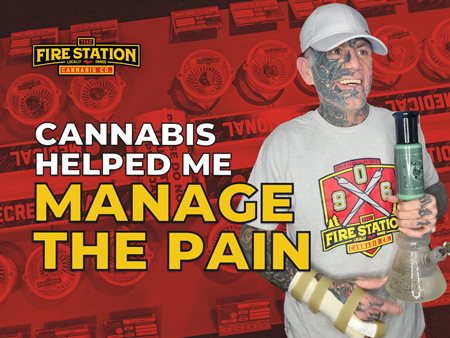 Blog
Meet Scott. "The past 12 months has been a crazy roller coaster of injuries for me. On December 4, 2021, I broke my neck, which
Read More »
Stay up-to-date with The Fire Station
Sign up for official communications from TFS and get updates on our promotions, events and other content tailored to you.