710 upside down spells OIL 😎
7/10 is a cannabis holiday that celebrates cannabis concentrates and the consumption of cannabis oils and extracts. Often referred to as "710," "Oil Day," or "International Dab Day," the holiday takes place annually on July 10th.
Why is 710 a cannabis holiday?
The 7/10 holiday is observed on July 10th, chosen because when written numerically (710), it resembles the word "OIL" when flipped upside down. This playful association has turned the date into a celebration of cannabis concentrates, particularly oils and extracts.
What are cannabis concentrates?
Concentrates are potent forms of cannabis that are extracted from the plant to isolate the desired cannabinoids, such as THC or CBD.

Common types of concentrates include oils, shatter, wax, budder, rosin, and live resin. These concentrates often have higher THC levels and offer a different consumption experience compared to traditional cannabis flower.
How can you consume cannabis concentrates?
You can consume cannabis concentrates by dabbing, which involves heating a concentrate and inhaling the resulting vapor through a dab rig, or by vaporizing concentrates using specialized vaporizer pens or devices. Some people may also incorporate concentrates into edibles, topicals, or tinctures.
How can you celebrate 710 this year?
A chance to win. Shoot your shot at winning free cannabis products (see details below).

Gather with friends. Gather 'round your dab rig, put on your favorite playlist, and experience an elevated night at home.
Express your creativity. Spark up your artistic expression by creating cannabis-themed artwork related to concentrates.
Learn more. From production methods and responsible consumption practices, to how to get started and what to expect, 710 is a great reason to research cannabis concentrates. Ask your budtender for their insights next time you stop in!
It's important to note that cannabis laws and regulations vary by jurisdiction, and individuals should always ensure they are in compliance with local laws and consume cannabis responsibly. 
Shop in-store on 7/10 for your chance to win
Cards will be given to the first 60 customers (Marquette, Negaunee, Ishpeming, Munising, Sault Ste. Marie, Houghton) and 70 customers (Hannahville, Iron River) who shop in store on 7/10/2023 and have a pre-tax purchase of $20 or more.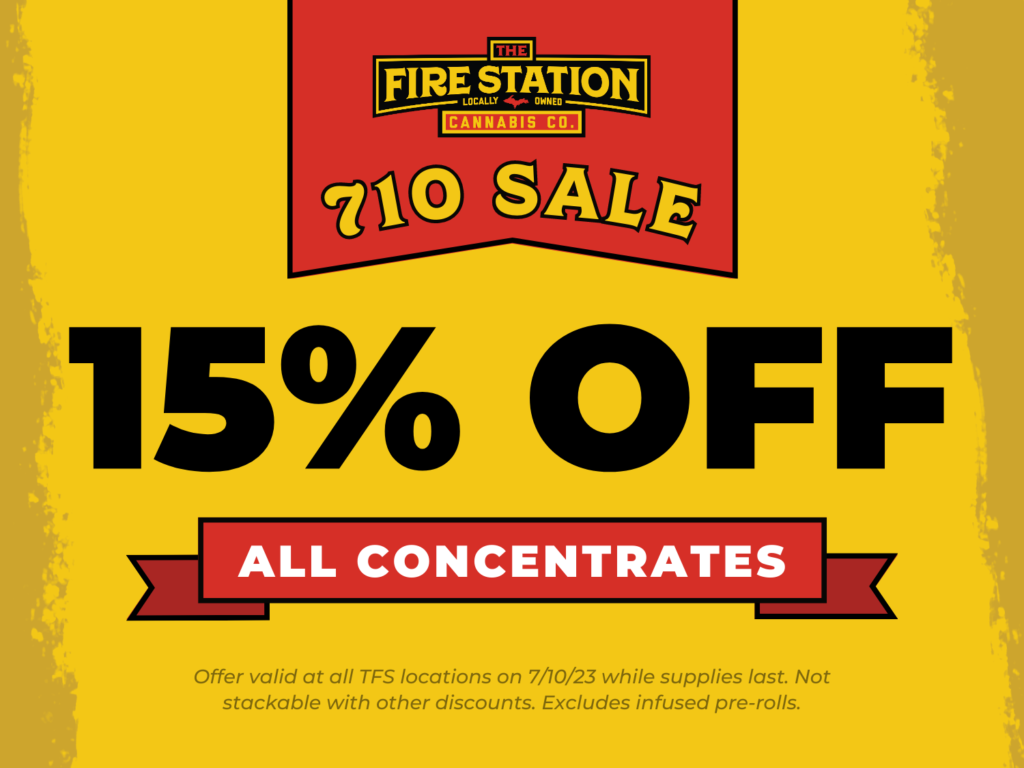 15% off concentrates on 7/10 at all TFS locations
Offer valid at all TFS locations on 7/10/23 while supplies last. Not stackable with other discounts. Excludes infused pre-rolls.
3/$45 Cannalicious Shatter from 7/7-7/10 at all TFS locations
Offer valid at all TFS locations from 7/7/23 – 7/10/23 while supplies last. Not stackable with other discounts.
#HASH Citrus Diesel Budder - REC
#HASH concentrates are premium full-spectrum, uncut, terpene-rich connoisseur grade extracts.
CHIEF KIEF Alien OG Kief - REC
Concentrated cannabis products come in a wide variety of consistencies, compositions, and potencies.
CANNALICIOUS Haze Wreck Shatter - REC
Shatter is a form of concentrate that is made by extracting cannabinoids and terpenes from cured cannabis flower.
You might also be interested in...
Blog
Whether you're a cannabis concentrate lover, or brand new to them, this article will explain the difference between solvent-based and solventless cannabis concentrates. By the
Read More »
Blog
Hear from our customers! The Fire Station Cannabis Company was voted by fans 'Best Recreational Cannabis Selection' in the 2022-23 Michigan Green State Reader's Choice
Read More »
Stay up-to-date with The Fire Station
Sign up for official communications from TFS and get updates on our promotions, events and other content tailored to you.